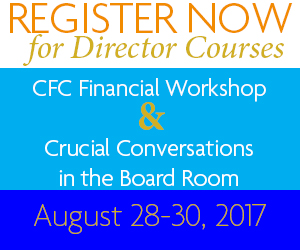 All cooperative directors have the opportunity to further their education this August through a CFC-sponsored financial workshop. Directors can also extend that workshop to include a CREA course that will target crucial conversations in the board room.
CFC Financial Workshop for Directors will include sessions on: the latest economic trends including unemployment, GDP growth and interest rates; understanding financial statements and ratios such as Times Interest Earned Ratio, and Equity to Assets; solar and renewable energy trends, including battery storage; cyber security updates, and the importance to understand cyber security risks and tradeoffs. Directors will also gain behind-the-scenes insight into how CFC plays a role in the cooperative network, how CFC is different from other financial institution and how CFC fits into the world of finance. August 29-30, 2017.
CREA's Crucial Conversations in the Board Room is a highly-interactive one-day course that teaches directors the skills that create alignment and agreement in the boardroom. Using real-world co-op examples, directors will have the opportunity to practice speaking for clarity and purpose with the hope that they can foster open dialogue around high-stakes, emotional or risky topics on issues facing electric cooperatives today. August 28-29, 2017.
For more details and to register for these courses, please contact Jen Hight at jenhight@coloradorea.org or call 303-455-2700 ext. 700. Registration deadline is August 1, 2017.