Legislative Updates
The 2017 legislative session kicked off Wednesday, January 11. The session is scheduled to last 120 days until May 10, 2017. CREA maintains a strong presence at the Capitol representing the interests of our member electric cooperatives.
If you would like more information, visit the General Assembly home page.
MEMBERS ONLY: For the latest information on the Colorado legislation CREA is following, click here.
Individual printed copies of the Colorado Rural Electric Association's 2017 Legislative Directory are available for $1 each, plus tax and shipping. To order, please contact the CREA's communications department at 303-455-2700, Ext 711.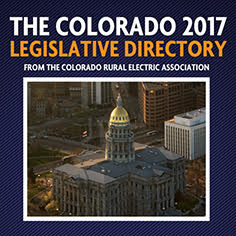 CREA also has a 2017 Directory App available for Apple and Android devices. Download the App for $0.99 at iTunes. Search for "Colorado 2016 Legislative Directory."