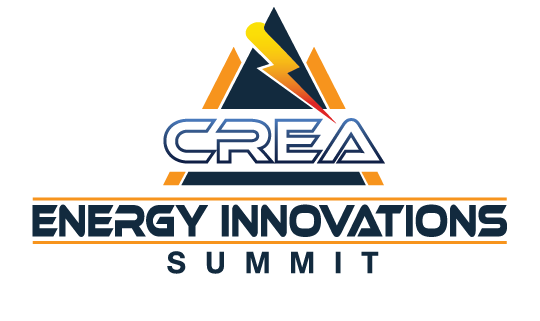 Transmission, electric vehicles, wind power, solar power, energy storage and other electricity-related topics were part of a daylong downtown Denver conference sponsored October 30 by the Colorado Rural Electric Association.
An audience of more than 300 people, including students from Mead Energy Academy and Pagosa Springs High School, attended the eighth annual CREA Energy Innovations Summit on October 30 in Denver. The attendees listened to experts from across the country who shared the latest developments in electric cars, renewable energy, power markets and energy technologies. The attendees included Michelle Ren and Julianna O-Clair of Brush and Tate Schrock of Anton, winners of CREA-sponsored EnergyWise Awards at the 2017 Colorado Science and Engineering Fair. The students presented their science fair projects during the vendor fair at the Summit.
Following an opening panel of electric co-op experts discussing the changing industry, breakout sessions looked at the pros and cons of Colorado's electric utilities joining a regional transmission organization and the state of electric vehicles in rural Colorado.
Leading the RTO panel were representatives from co-op power supplier Tri-State Generation and Transmission Association, Xcel Energy and the Southwest Power Pool RTO. They discussed how belonging to an RTO would optimize the use of the generation and transmission assets for those utilities in the group and how that could lead to improved renewable integration while reducing production costs. They also reviewed the challenges of bringing all of these different entities together and calculating a regional tariff and various possible cost shifts.
Meanwhile, a parallel breakout session explored how electric vehicles may impact the grid. It was noted that Colorado ranks 4th when it comes to EV growth. And, while much of the EV growth is in Denver, Gunnison County Electric Association CEO Mike McBride noted that drivers in GCEA's territory have embraced the co-op's EV and utilize the charging stations the co-ops have helped install. Brian Sloboda of the National Rural Electric Cooperative Association explained the research and information that the national trade association has available for co-ops promoting EVs within their territory.
Dr. Martin Keller, Director of the National Renewable Energy Laboratory, was the featured speaker at the Summit luncheon. Dr. Keller discussed the work being done by NREL in renewable energy and the advances being made in renewable and storage technology. During the Summit's afternoon sessions, a breakout session on distributed energy resources drew a standing-room-only crowd. The panel discussed the grid of the future and what it might look like as more electric users look to smaller power sources behind their meters to meet their needs. Utilities will need to move from just interconnecting with these customers to integrating with their power supplies, according to one panelist. New technology and new forecasting methods will be needed to make this all work.
Other breakout sessions included a look at wind generation and an update on natural gas. Both panels showcased new technology that is advancing the efficiency and benefits of these resources.
The day closed with a panel discussion on energy storage. Experts from the National Renewable Energy Lab, the Electric Power Research Institute and Tesla provided status reports on storage technology and how soon it will be reliable and affordable enough to complement renewables on the grid.
Next year's Summit is set for Monday, October 29 at the Westin Denver Downtown hotel.
https://crea.coop/wp-content/uploads/2017/11/CREA-ENERGY-SUMMIT-1.png
360
540
CREA Admin
https://crea.coop/wp-content/uploads/2021/12/Horz_FullColorSolidBlue.png
CREA Admin
2017-11-30 09:43:38
2017-11-30 10:12:25
CREA Energy Innovations Summit Focuses on an Evolving Industry