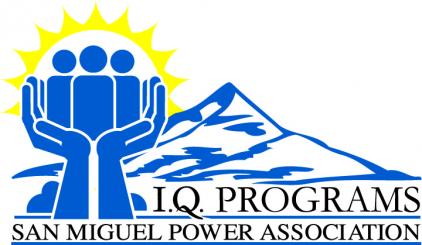 Ridgway-based electric cooperative San Miguel Power Association has developed programs for income-qualified consumer-members who struggle to pay their electric bills. SMPA designed these I.Q. programs to enhance the co-op's home efficiency program — the I.Q. Weatherization Program — and to increase consumer-members' access to community solar.
Assistance from the I.Q. Weatherization Program begins with a complete home energy assessment courtesy of the cooperative. The co-op's energy auditor visits a consumer-member's home to perform a blower door test and to take other measurements to determine the energy efficiency of the home. The tests reveal if the home needs upgrades such as LED lighting, low-flow fixtures, air sealing work, insulation upgrades, appliance upgrades and other energy efficiency improvements that can lower electricity use and high electricity bills. Once the improvements and upgrades are made — at no cost to the consumer-member — the savings on the monthly electric bill are immediate and significant.
After the energy audit and upgrades are complete, the consumer-member is enrolled in the I.Q. Solar Program, where they are granted a five-year subscription to the co-op's 200-kilowatt community solar array. This solar program gives those qualified consumer-members access to a maximum of 2 kilowatts of generation, providing savings from local and renewable solar power. Consumer-members receive bill credits for their portion of the array's generation each month, thus lowering their bills even more.
In true cooperative spirit, SMPA is excited to provide these weatherization and solar programs to its consumer-members in need of help.
https://crea.coop/wp-content/uploads/2021/02/SMPA-IQ-Programs-422x245.jpg
245
422
CREA Admin
https://crea.coop/wp-content/uploads/2021/12/Horz_FullColorSolidBlue.png
CREA Admin
2021-02-24 15:34:47
2021-02-24 15:34:47
New Co-op Program Combines Efficiency and Solar