2021 CARE AUCTION
Hybrid Auction October 3-10, 2021
The 2021 CARE Auction will be back in person… sort of! In conjunction with the Fall Meeting, the 2021 CARE Auction will be held on October 10, 2021, with a live (in-person) and silent auction (in-person and virtual).
The 2020 CARE Auction was successful and the CARE Committee is excited to welcome attendees of the Fall Meeting to participate in the 2021 auction. The Care Committee will also offer a virtual silent auction to ensure cooperative consumer-members, co-op staff, and board members of Colorado's co-ops can participate anywhere in Colorado. By participating in the CARE Auction, you are supporting co-op efforts to engage with candidates for elected office, encouraging them to advocate for and strengthen the voice of Colorado's electric cooperatives. You can access the auction through Handbid.com or the Handbid app (available on the Google Play and App Store).
Make sure to register ahead of time through Handbid so you can participate when the silent auction goes live on Sunday, October 3 at 10 am.
Make sure to register ahead of time through the Handbid App, so you can participate when the silent auction goes live on Sunday, October 3 at 10 am. At this time, you can place bids on the silent auction items. The silent auction will run through Sunday, October 10, at 6:30 pm. The live auction will be held in person at the Grand Hyatt in Denver, and only those attending the CREA Banquet will be eligible to participate in the live auction.
This year, you can peruse the auction items, save your favorite items to a wish list and bid on those items at your leisure, all from the comfort of your computer or phone. We look forward to your participation.
Do you have questions about the auction or Colorado Advocates for Rural Electrification? Contact:
Tim Coleman, Manager of Legislative Affairs
Cell: 303-242-9270
Direct: 720-407-0705
tcoleman@coloradorea.org
---
Auction Guidelines
The Auction will run from Sunday, October 3 at 10 am through Sunday, October 10 at 6 :30 pm. Items will be shipped, picked up, or dropped off to the winners depending on location.
All lodging is subject to availability. We recommend that you make your reservations as soon as possible for items that are date-specific.
Due to state regulations, CARE will be unable to ship alcoholic beverages. All packages included alcohol will need to be picked up at the auction, CREA's headquarters, or dropped off to the winner.
Neither CREA nor CARE are responsible for missed expiration dates. Please read all package information closely for special terms and conditions.
Please be aware that CARE reserves the right to use and disperse these funds as it deems appropriate, including transferring any or all amounts to a political committee or Independent Expenditure Committee.
We encourage participants to pay by credit card, however, checks can be mailed to CARE at 5400 Washington St, Denver, CO. If paying by check, please make all checks payable to "CARE Membership Account." Additionally, state law prohibits cash payments of $100 or more.
Personal or corporate funds can be accepted as payment.
Contributions to CARE are not tax deductible.
What is CARE? Click here!
---
FAQs
Where do I go to bid on an item?
A link to the CARE Auction will be available shortly.
Who can participate in the auction?
Since the auction is going to benefit the CARE Membership, LLC, an independent expenditure committee, all United States citizens can participate. However, the main audience for the auction is consumer-members, staff, and board of directors of Colorado's electric cooperatives.
How can you bid on auction items?
Those who are participating in the auction will be able to easily bid on auction items on the Handbid.com website and on the Handbid Mobile App.
Are contributions tax-deductible?
Contributions to the auction are not tax-deductible for state and federal tax purposes.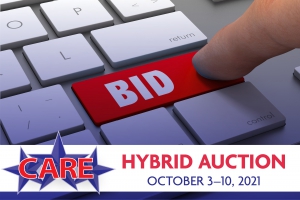 ---
STEP 1: DOWNLOAD THE HANDBID APP
Please note we strongly recommend you "Accept notifications from this app" when you open it and join an auction. This will allow you to get push notifications for "Outbid" messages during the auction.
STEP 2: TAP GET STARTED & CREATE an ACCOUNT
Next, you can create an account. From the App home screen, tap on the "GET STARTED" button and complete the information (please use your cell phone as the phone number). Tap NEXT– Handbid will text you a 5 digit code. Enter this code to log in.
STEP 3: SELECT AUCTION FROM LIST & START BIDDING
Search and select the 2021 CARE Auction from the list of auctions and swipe left to enter the auction. Once in the auction, swipe left/right to access categories and up/down to access items.
 Whether you are bidding online or in the Handbid App, here are some easy tips to help:
MAX BID:  This is the max you are willing to spend for an item and Handbid system will automatically bid for you until you reach your max. Set a max bid and enjoy your evening!
NOTIFICATIONS: If you have downloaded the Handbid App and accepted push notifications, you will be notified by push notifications when you are outbid on an item. If you don't have the app you will receive text messages from Handbid.
DASHBOARD: Monitor what you are currently winning and losing on the Dashboard screen in your app or online.
No smartphone? No problem!
How to pay:
Winners of both silent and live auction items will receive an invoice to pay for the auction item through the Handbid App. Preload a credit card to your Handbid account for ease and simplicity!