2020 Annual Meeting
Service is at the core of everything the Colorado Rural Electric Association does and has done for the last 75 years. The association doesn't sell any electricity; it doesn't manufacture products. It does empower its member cooperatives and their employees by providing education classes, safety training, loss prevention information, legislative representation, communications assistance, youth programs and organizational support. CREA's 13 employees are empowered to provide these services and more to all of its member cooperatives in timely, economical and well-executed ways.
Click here to read the 2019 Year in Review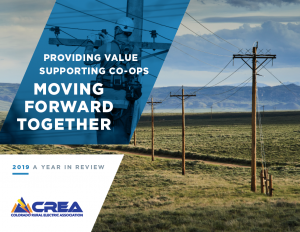 PowerPoints from our 2020 Annual Meeting Speakers:
Joel Bladow, Senior VP of Transmission, Tri-State Generation and Transmission
Dan Gibbs, Executive Director, Department of Natural Resources
Sheldon Peterson, Chief Executive Officer, CFC
Eric Itambo, Chief Banking Officer, CoBank
Luke Falke, Sales Manager, Federated Insurance
Chris Bradley, Regional Business Manager, NRTC
Joe Martin, Colorado Representative for NRECA
Supplemental course material:
For directors that attended Course 953.1 Improving Board Decision Making, instructor Mary McClury shared Strategies – Improving Boardroom Decision-Making Quality.