Legislative Updates
CREA maintains a strong presence at the Capitol representing the interests of our member electric cooperatives. The 2018 legislative session kicked off Wednesday, January 10, 2018. The 120 day session concluded on May 9, 2018. Below is some information about bills that may have some impact on CREA's members.
If you would like more information on the 2018 legislative session, visit the General Assembly home page.
---
SB18-167
Concerning increased enforcement of requirements related to the location of underground facilities, and, in connection therewith, making an appropriation.
---
HB18-1128
Concerning strengthening protections for consumer data privacy.
HB18-1128
Individual printed copies of the Colorado Rural Electric Association's 2018 Legislative Directory are available for $1 each, plus tax and shipping. To order, please contact the CREA's communications department at 303-455-2700, Ext 711.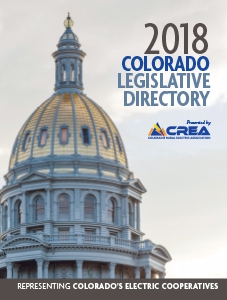 CREA also has a 2018 Directory App available for Apple and Android devices. Download the App for $0.99 at iTunes. Search for "Colorado 2018 Legislative Directory."