Legislative Updates
CREA maintains a strong presence at the Capitol representing the interests of our member electric cooperatives year-round. The First Regular Session of the 73rd General Assembly adjourned on June 8, 2021. The Second Regular Session of the 73rd General Assembly will convene on January 12, 2022. If you would like more information on the 2022 legislative session or are interested in following along with the interim committees, visit the General Assembly homepage. If you are a member of CREA, log in to the member only section to see what bills CREA is tracking. Below is information about previous legislation that may impact some co-op members.
---
---
The end of the second regular session of the 72nd Colorado General Assembly was June 15, 2020. This document highlights legislation that will directly impact Colorado's electric co-ops. 
For summaries and analysis of the bills CREA is tracking, please click here.
If you have trouble accessing this page, please contact Tim Coleman at tcoleman@coloradorea.org.
Individual printed copies of the Colorado Rural Electric Association's 2022 Legislative Directory are available for $1 each, plus tax and shipping. To order, please contact the CREA's communications department at 303-455-2700, Ext 711.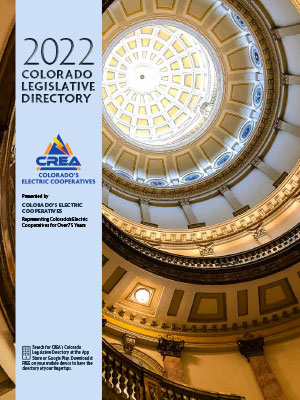 CREA also has a Legislative Directory App available for Apple and Android devices. Download the App for FREE in App Store or Google Play click the link below: