17th RMUE A Success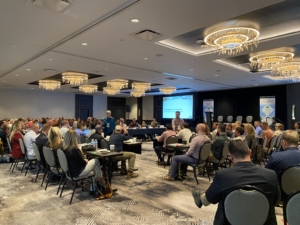 The 17th Rocky Mountain Utility Exchange took place in Vail, Colorado, September 25-28. With 195 registered attendees and 25 conference sponsors this was the largest group  ever to attend the Exchange. The conference featured 26 presentations from 43 different presenters, moderated by 17 co-chairs. The content is carefully curated by the RMUE Advisory Committee, made up of 20 industry advisors. There were presentations on the future of energy efficiency and collaboration strategies, EV opportunities, distributed energy resources, beneficial electrification, and funding programs. The highly anticipated roundtable discussion gave way to open and free dialogue among representatives of the attending utilities. Anne Dougherty and Leigh Michael, of ILLUME Advising, closed the conference with a conversation on Translating Equity Goals into Practices. Plans will soon be underway for the 18th Rocky Mountain Utility Exchange in 2024.
Click to view and download this year's presenter PowerPoints.
______________________
MORE ABOUT THE CONFERENCE
The Rocky Mountain Utility Exchange Conference brings utilities and allied organizations together to think strategically about industry-related initiatives. The conference is an opportunity for participants to network with other industry professionals while learning about distributed energy resources, demand response, load management, energy efficiency, customer service/operations, marketing/sales, enhanced business operations, and more.
For 16 years this premier conference has been led by Ed Thomas and Tiger Adolf.  On December 5, 2022, the Colorado Rural Electric Association (CREA) acquired the Rocky Mountain Utility Exchange brand and database.  Ed Thomas and Tiger Adolf are now consulting with CREA so we can continue to bring you the content you have come to rely on from this conference. Watch for more details about the September 25-28 conference that will be at The Hythe in Vail, Colorado. For more information about the upcoming event visit the FAQ page.