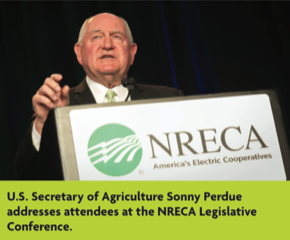 The National Rural Electric Cooperative Association Legislative Conference took place in Washington, D.C., the first week in April and Colorado co-ops attended to meet with legislators. The annual conference gives rural electric cooperative leaders the opportunity to discuss co-op priorities and legislation that directly affects co-ops and rural America. This year, one of the topics was broadband for rural America.
Work on the House Farm Bill and expanding funding for rural broadband was discussed by Agriculture Secretary Sonny Perdue, who was the keynote speaker at the NRECA conference. "Rural broadband is not just a luxury — it's essential," Perdue told more than 2,000 electric cooperative leaders attending the conference in Washington on April 9. "I don't believe that America would ever reach the productivity we have today across our nation without abundant flow of electricity everywhere," said Perdue. "In the same way, we cannot make America great again without high speed e-connectivity available to every American."
Broadband access will improve rural education, medical care, communication and business, including farming, he continued. Perdue described how smart technology can drive precision fertilization and seeding at large farms. "You can't do that without broadband e-connectivity," he said.
Perdue said that the USDA is working now to distribute $600 million in rural broadband grants and loans, which has the potential to directly impact rural parts of Colorado. Several Colorado co-ops are currently innovation leaders in expanding high-speed internet into underserved parts of rural Colorado.
https://crea.coop/wp-content/uploads/2018/04/Screen-Shot-2018-04-24-at-9.10.19-AM-1.png
240
290
CREA Admin
https://crea.coop/wp-content/uploads/2021/12/Horz_FullColorSolidBlue.png
CREA Admin
2018-06-21 13:30:08
2018-06-21 13:30:08
D.C. Conference Focuses on Broadband