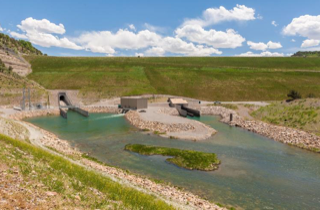 Co-op Power Suppliers Evolve to Meet Future Needs
By Amy Higgins
Electric cooperatives are committed to making reliable and low-cost electricity available to consumer-members. To do that, many co-ops depend on their generation and transmission co-ops (G&Ts) that supply the electricity. Those G&Ts are finding new ways and new resources to help their co-ops meet the needs of their members today and tomorrow.
"G&Ts have expanded their supply portfolio to add cleaner and more efficient modern natural-gas fired generation and renewable resources, and are also investing in emerging technologies," said Paul Breakman, senior director in NRECA's business and technology strategies (BTS) department.
"The nation's 63 G&Ts (including Tri-State Generation and Transmission Association in Colorado) are finding ways to support infrastructure opportunities and replace existing generation to ensure electric co-ops have access to the lowest cost electricity available," said Dan Walsh, senior power supply and generation director for BTS. "G&Ts are investing millions of dollars each year into research, plant modernization and new generation."
The Earth's Energy
Owned or purchased renewable energy capacity available to electric cooperatives has topped 9 gigawatts, with at least another 1.1 GW planned by 2020, excluding about 10 GW of federal hydropower purchased by co-ops each year.
Fueling the projected growth are a number of factors, including the extension of federal tax incentives and the improving economics of renewable resources.
With 85 megawatts of solar, Westminster-based Tri-State Generation & Transmission leads the nation in co-op solar power, according to Lee Boughey, Tri-State's senior manager of communications and public affairs. The G&T supplies electricity to 18 of Colorado's 22 electric co-ops. In 2017, 30 percent of the energy consumed within the association came from renewable resources.
Tri-State's first two large, utility-scale projects were announced in 2009 and came on line in 2010: the 30-megawatt Cimarron Solar facility located in Colfax County, New Mexico, and the 51-megawatt Kit Carson Windpower Project in Kit Carson County, Colorado. "Since then, Tri-State has added two additional solar projects, which make our association the top G&T in the nation for solar power," Boughey said.
With three wind projects in eastern Colorado and six hydropower projects, Tri-State has 475 MW of renewable projects in its portfolio. "Those projects are complemented by our members' local renewable projects and the hydropower power the association purchases from the Western Area Power Administration," Boughey said.
There have been significant decreases in the cost of renewable power since the G&T's first projects were signed on in 2009. As a result, its recent renewable energy power purchase agreements benefit its member systems with the lower cost of energy. Projects that came on line in 2017 include the Alta Luna solar project in southern New Mexico and the Twin Buttes wind project in southeast Colorado.
"While other utilities across the country have seen decreases in the demand for power, Tri-State, which has a diversity of member systems, continues to experience load growth," Boughey said. In 2017, the amount of energy the G&T supplied to its members increased more than 2 percent.
And more of that power is now generated using renewable resources.
Amy Higgins writes on cooperative issues for Colorado Country Life.
https://crea.coop/wp-content/uploads/2018/05/GT-Story-2.png
210
320
CREA Admin
https://crea.coop/wp-content/uploads/2021/12/Horz_FullColorSolidBlue.png
CREA Admin
2018-06-21 13:34:35
2018-06-21 13:34:35
Co-op Power Suppliers Evolve to Meet Future Needs