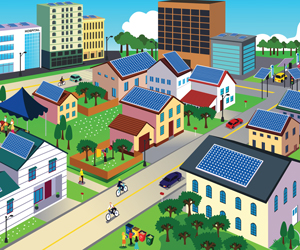 Community Storage Initiative: Electric Co-ops Lead Research on Power Storage
The National Rural Electric Cooperative Association and other energy and environmental stakeholders are uniting around "community storage" as they search for a way to solve the electric industry's energy storage challenge.
Community storage refers to a spectrum of utility-sponsored programs that aggregate electric storage resources available throughout the community, such as water heaters and electric vehicles, to improve the efficiency of electric energy services for consumers. Community storage programs offer the industry practical steps to rapidly increase the amount of energy storage available, and also integrate more renewable resources.
Initiative members are already implementing community storage programs; through the Initiative, they will be working together to evolve those programs.
Like community solar, community storage enables consumers and utilities to share the system-wide benefits of energy storage – environmental benefits, lower costs and grid optimization – in communities large and small across the country. Such programs maximize the value of distributed energy resources, many of which are already available to participate in energy storage programs through simple retrofits and program design.
NRECA, the national service organization for the Colorado Rural Electric Association and the nation's 900-plus consumer-owned, not-for-profit electric cooperatives, is a charter sponsor for The Community Storage Initiative.
Additional charter sponsors include American Public Power Association, Edison Electric Institute, Natural Resources Defense Council and Peak Load Management Alliance. The Initiative will be chaired by Gary Connett, director of member services at Great River Energy, a generation and transmission cooperative based in Maple Grove, Minnesota.
The Initiative's supporters include a wide array of energy, environmental and business interests including several trade associations, environmental and efficiency advocacy groups and manufacturers.
Research conducted by The Brattle Group and sponsored by the Initiative's founding members recognized that the nation's 50 million residential electric water heaters collectively represent a significant and vastly underutilized energy storage resource capable of leveraging substantial environmental and cost benefits. A recent article in Public Utility Fortnightly introduced the community storage concept. Links to both the report and the article can be found on the Community Storage Initiative's website, http://www.communitystorageinitiative.com.
https://crea.coop/wp-content/uploads/2016/07/Solar-Community.jpg
250
300
CREA Admin
https://crea.coop/wp-content/uploads/2021/12/Horz_FullColorSolidBlue.png
CREA Admin
2018-06-21 10:14:30
2022-09-06 20:16:30
Community Storage Initiative: Electric Co-ops Lead Research on Power Storage