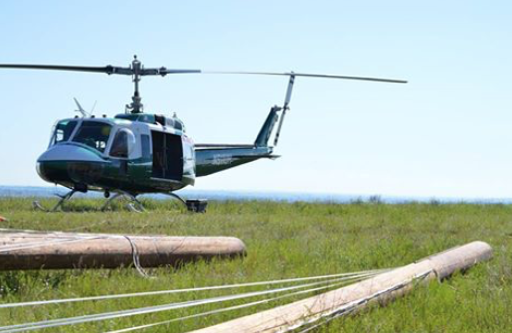 Helicopters Help Co-ops Minimize Impact on Environment
The Cotopaxi and Texas Creek areas had extra air traffic this summer, but minimal impact on the local, mountainous terrain, thanks to the local electric co-op. The same was true on the Western Slope when a helicopter was used for power line inspections.
It was Sangre de Cristo Electric, headquartered in Buena Vista, which brought the helicopter to the mountain sides along the Arkansas River. The co-op needed to set four 900-pound poles, but the difficult and fragile terrain prevented safe access with typical co-op equipment. So, the helicopter was called in and the job was completed.
Colorado electric cooperative, Delta-Montrose Electric Association, also recently recruited the help of a helicopter to conduct line inspections across its service territory. The aerial patrol program helps DMEA inspect lines on parts of the power system that are difficult to reach in mountainous terrain. Crews in the helicopter scan for damaged equipment and linemen ride along to look for other potential problems before they cause outages. Damaged equipment can heat up, so hot spots are identified from the helicopter above through thermal imaging equipment
More than 3,000 miles of power lines will undergo aerial line patrol this year as part of DMEA's system reliability program. Inspections help ensure safe and reliable power to homes and businesses across the DMEA service territory.
This use of helicopters is another example of how Colorado co-ops are always looking ahead to find innovative approaches to providing safe, low-cost, environmentally-friendly electricity to their service territories.
https://crea.coop/wp-content/uploads/2018/06/Sangre-Helicopter.png
333
512
CREA Admin
https://crea.coop/wp-content/uploads/2021/12/Horz_FullColorSolidBlue.png
CREA Admin
2018-06-21 13:00:48
2018-06-21 14:08:31
Helicopters Help Co-ops Minimize Impact on Environment