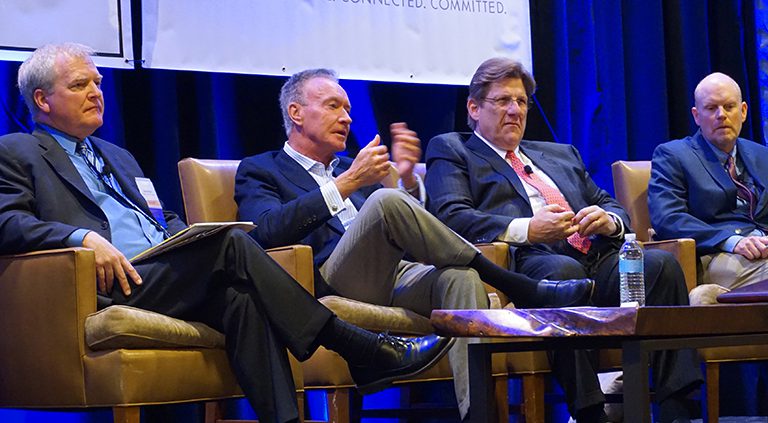 Panel Explores Co-ops Thriving in an Evolving Industry
Co-ops face unprecedented challenges as the result of new distributed energy technologies, customer attitudes toward self-generation and state energy efficiency and renewable energy policies. At CREA's Energy Innovations Summit October 30, the opening panel provided a coast-to-coast look at how the electric co-ops in several states are mapping a strategy for the new energy paradigm.
Kent Singer, executive director of Colorado Rural Electric Association, moderated the panel consisting of Ted Case, executive director, Oregon Rural Electric Cooperative Association; Michael Couick, president and CEO, The Electric Cooperatives of South Carolina; and Mike Williams, president and CEO of Texas Electric Cooperatives.
Singer posed the question of, after 80 years in the business, how do co-ops maintain relevance? Mike Williams responded that the biggest challenge is the co-ops themselves and that for the future, co-ops need to recognize that the landscape has changed. He said co-ops need to be forward-thinking and recognize co-op members' needs and their desire when it comes to their electricity.
Mike Couick answered that, as is true with phone technology, things have changed and member-consumers want choices. He stated that as co-ops are owned by the people they serve, they can either embrace their choices or fight them, and he chooses to "embrace innovation" and is willing to change along with the members' choices.
"Co-ops should discuss why they exist, and always be looking toward what is the next thing," said Ted Case. "Innovation is key," he continued, "and we have to find a niche." He said that co-ops have the ability to do things that other models can't.
Further in the discussion, Kent asked if there needed to be a more centralized way that the country manages electricity. All three panelists agreed that there needs to be discussions about comprehensive energy policy. Case said it is important, though, to keep control at the local level. Couick noted that co-ops need to engage with their membership and listen. He stated that vision is key, and that co-ops can get vision from their membership.
https://crea.coop/wp-content/uploads/2017/11/Panel-Explores-1-1.jpg
512
768
CREA Admin
https://crea.coop/wp-content/uploads/2021/12/Horz_FullColorSolidBlue.png
CREA Admin
2017-11-30 09:45:25
2017-11-30 10:40:03
Panel Explores Co-ops Thriving in an Evolving Industry