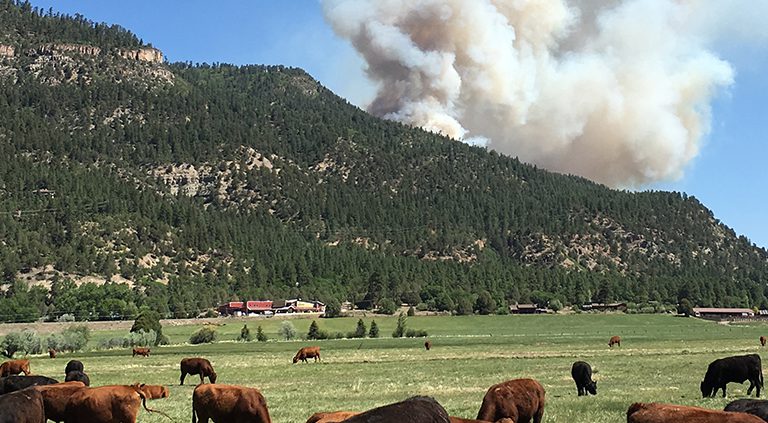 Colorado Co-ops Share About Recovering from Fires
By Amy Higgins
Fires have been burning all over Colorado this summer and, while most fires seem to be contained as of press time, several Colorado towns in electric co-op territory are still feeling the burn — environmentally and economically. Three co-op communities have particularly felt the impact of this year's wildfires.
Helping hands through diversity
In San Isabel Electric Association's territory in southern Colorado, the Spring Creek Fire, more frequently referred to as the Spring Fire, began on June 27, 5 miles northeast of Fort Garland, according to the U.S. Forest Service Incident Information System on InciWeb. As of July 13, the Spring Fire was 91 percent contained. At 108,045 acres burned, this fire is said to be the third largest fire in Colorado history and its area was declared a disaster zone by Gov. John Hickenlooper.
SIEA worked closely with the Rocky Mountain Blue and Rocky Mountain Black incident management teams, as well as the staff at the emergency operation center in Huerfano County. During the fire, the Blue and Black teams instructed SIEA crews where and when to de-energize lines and electrical equipment for the safety of firefighters and public at large.
The 416 Fire began on June 1, 13 miles north of Durango. At press time it was 50 percent contained and 54,129 acres were burned, according to InciWeb.
The day-to-day operations of electric co-op crews quickly adjusted to help keep their community safe. "We are constantly shifting guys around to be on call 24/7 to assist the fire team," said Justin Talbot, operations manager at La Plata Electric Association, based in Durango.
While the wildfires raged, cooperative crews' daily projects were slowed to ensure someone was available to assist the local incident management teams around the clock. "We also have to be very conscious of keeping our guys rested," Talbot said. "This is an adrenaline rush to them just like any other first responder. These guys get that same feeling as the fire team — they are wanting to help and will do whatever it takes to get it done."
The Lake Christine Fire began on July 3 at approximately 6:15 p.m., just 1 mile northwest of Basalt. At press time it was 55 percent contained with 6,693 acres burned.
"The Roaring Fork Valley is a pretty narrow valley with Independence Pass at the southern end. Therefore, our lines are often closer together than you typically place them if you were working to ensure redundancy of the system," explained Jenna Weatherred, vice president of member and community relations at Holy Cross Energy, the co-op headquartered in Glenwood Springs. "We lost the transmission line from Gypsum to Basalt and were then left with one line serving Basalt, Snowmass and Aspen. Unfortunately, this line was also in the fire's path, and we were very concerned about losing it. If we had lost this line, those communities would have been without power for up to 72 hours."
"The lineworkers really deserve a lot of credit," said SIEA Communications Manager Paris Elliot. "They're working 16-hour days nonstop in the heat, and they love it because they know they're making a difference in helping people."
As one of the newer employees at SIEA, Elliot was amazed by the can-do attitude of her fellow employees. "We started ordering poles and transformers as soon as the fire began and we're ready to rebuild," she said. "These are just pieces of equipment and they'll be replaced. The victims of the fire, the sacrifices they've made don't compare — these homes are priceless."
Economy, concern for co-op members
As firefighters contained the blazes, thousands of Coloradans were without power or evacuated from their homes altogether.
"The (Lake Christine) Fire, which destroyed three homes, resulted in the evacuation of 1,793 residents from 664 homes by the Eagle County Sheriff's Office, with some residents being kept from their homes for almost a week, Weatherred explained.
The U.S. Forest Service has not yet reported the exact number of evacuees and damaged structures from the Spring Fire, but news outlets recently reported more than 140 homes destroyed in the fire.
The residual from these wildfires is not only ash and debris, but also job loss and tourism decline.
"The area where we're talking about (with the Spring Fire), these are some of the poorest counties in the state of Colorado; they're already facing tremendous economic hardship," Elliot said, pointing out that the smoke has cleared and most roads are now open, including Highway 160, the main highway through the area. "The majority of access to the area is open. There's still tons of beautiful mountains, lakes and streams to fish and play in."
"The smoke has been horrid and our tourism economy has suffered, so everybody is doing what we can to tell folks that Durango is open for business," added Indiana Reed, LPEA public information officer.
Fire restrictions led to tourism cancellations as well as local shopping decline, so Durango businesses are doing what they can to summon people back to the area with special events like Fab Fridays, concerts, demonstrations and tours.
LPEA customer service representatives decorated a new "Power of Giving Tree" at the Durango office, encouraging the community "to give a little to help a lot, and assist their friends and neighbors economically impacted by the 416 Fire," according to an LPEA press release.
"The big takeaway for me is that there isn't one member in Huerfano County and Costilla County who hasn't been affected by this fire. If they weren't evacuated themselves, they have a family member or friend who was evacuated," Elliot said. "There was livestock that was unable to escape the fire or be evacuated. There's land that was lost. The economy changed. There's literally not one thing that isn't going to be affected by this fire."
In light of the damage and economic downturn in Colorado's burn areas, folks are mindful of the dangerous work that was — and still is — being performed by emergency crews. Locals go out of their way to show their gratitude to firefighters and the many others who put their lives on the line to keep them safe.
"The first responders and firefighters that fought and are still fighting this fire are so brave and courageous," Weatherred said. "They worked so hard to save homes, keep people safe and protect our power lines. The firefighters are the true reason we've been able to keep the power on during this emergency, and we are so thankful for their efforts."
Amy Higgins is a freelance writer who lived in Denver and knows these areas devastated by the fires.
https://crea.coop/wp-content/uploads/2018/08/Industry_1-7.jpg
512
768
CREA Admin
https://crea.coop/wp-content/uploads/2021/12/Horz_FullColorSolidBlue.png
CREA Admin
2018-08-01 08:37:28
2018-08-01 08:47:54
Colorado Co-ops Share About Recovering from Fires