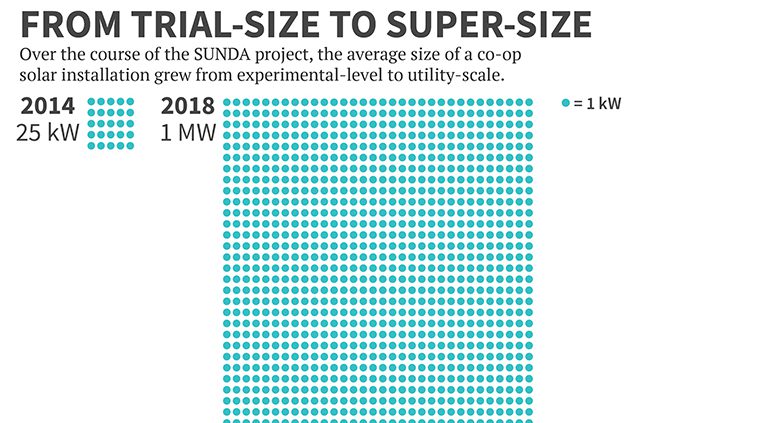 Co-op Solar Projects Start and Succeed with SUNDA Project
By Derrill Holly and Amy Higgins
Electric cooperatives are committed to providing safe, reliable, affordable energy to their consumer-members, and in many parts of the country that includes increasing the availability of solar power.
"Co-ops are big supporters of an 'all sources' national energy policy," said Debra Roepke of the National Rural Electric Cooperative Association's business and technology strategies group. "Our challenge is finding ways to get sustainable value out of investments that not only help meet the needs of co-op members today, but also control their costs in the future."
Roepke spent more than four years as NRECA's liaison and co-project manager of the Solar Utility Network Deployment Acceleration (SUNDA) project, an initiative launched by NRECA with partial funding from a Department of Energy Sunshot Initiative grant. In that role, she worked with generation and transmission cooperatives, electric cooperatives and other organizations involved in planning, developing and assessing the value of various approaches to solar projects.
Colorado Solar Projects
Between 2013 and 2018, total solar capacity owned or contracted by electric co-ops grew from 94 megawatts to 868 MW. Electric coops host more than two-thirds of all utility-sponsored community solar projects.
Tri-State Generation and Transmission, based in Westminster, has three projects totaling 85 MW of utility-scale solar in place. According to NRECA, Tri-State is the top solar G&T in the nation.
Poudre Valley Rural Electric Association, based in Fort Collins, utilizes community solar energy from six sites throughout northern Colorado and owns 2.7 MW.
"We have had a demand for a community solar option since we decided to build our first solar farm in 2012; the farm sold out before it was even built," said David White, PVREA vice president of member relations. "Members continually requested a solar offering so we constructed a second solar farm that is five times bigger than our first solar farm, which sold out just a few months after construction was complete.
"An important part of our mission is to provide exceptional service to our members and, if meeting their energy needs includes a solar component, we need to be prepared to deliver," White explained. "SUNDA provided resources at our fingertips that would have taken considerably more time to research on our own."
SUNDA Provides Research
Solar projects, regardless of size or structure, help to build a knowledge base accessible to all electric co-ops.
PVREA's first community solar project was Highlands Community Solar, followed by the Willox Community Solar Farm. Both thrived but were Power Purchase Agreement projects, which means the farms are owned and operated by a separate entity that PVREA purchases the energy from.
"With the success of two solar farms under our belt, we decided to build our third solar farm: the Coyote Ridge Community Solar Farm," White said. With this project, PVREA wanted to take a different approach where the cooperative would own and operate the solar array, eliminating the need for a third party to maintain the farm. However, the co-op did not yet have the experience to do it on its own.
"SUNDA was a great resource for PVREA, providing information on engineering, procurement and construction. We found their financial analysis tool to be instrumental in evaluating options," White explained.
Materials provided by SUNDA help electric cooperatives with everything they need to know about the process of attaining solar power, from conceptualization to planning and execution, as well as communication with the co-ops' memberships. White explained that SUNDA's resources helped cut the amount of time it would have taken otherwise to build Coyote Ridge, which sits at 74 percent subscribed today.
"SUNDA has supported cooperatives across the country," said Lee Boughey, senior manager of communications at Tri-State. "The sharing of knowledge helps co-ops understand the opportunities with solar and reduce risks, which leads to successful projects"
Declining Costs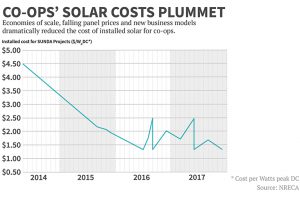 Several SUNDA participants contend that declining prices helped move solar from a demonstration or educational technology to a competitive asset within wholesale generation portfolios in many areas of the United States.
Solar products and components are improving, and the manufacturing and vendor base continues to expand. That led to substantial declines in the cost for deployed solar. According to NRECA, the per-watt costs declined from $4.50 for the first research project in 2013 to less than $1.40 per watt in 2018.
"The ultimate economics of solar lends itself to serious consideration as a daytime resource," said Todd Bartling, vice president of renewables development for the National Renewables Cooperative Organization.
With an average of 300 days of sunshine annually, Colorado electric cooperatives are primed to benefit from this renewable energy resource, given their membership's support.
"With clear skies and bright sunshine across the West, decreasing costs and federal tax incentives, solar power is an attractive resource for both Tri-State and our members." Boughey said. "We are able to blend solar power and other renewables with our owned and contracted resources to keep power reliable and costs down for our members."
"The industry is working to reduce the costs of the underlying equipment, installation and financing," Bartling said. "Those improvements will help ensure the technology's commercial viability when or if tax incentives designed to hold down costs are phased out."
Shared Insights
Thanks to the SUNDA project, all of this information is available to electric co-ops. Shared experiences and open discussion are among the greatest strengths of the electric co-op movement.
Derrill Holly writes on consumer and cooperative affairs for the National Rural Electric Cooperative Association. Amy Higgins is a freelance writer for Colorado Country Life magazine.
https://crea.coop/wp-content/uploads/2018/11/Industry_2-10.jpg
512
768
CREA Admin
https://crea.coop/wp-content/uploads/2021/12/Horz_FullColorSolidBlue.png
CREA Admin
2018-11-01 09:44:56
2018-11-01 09:44:56
Co-op Solar Projects Start and Succeed with SUNDA Project