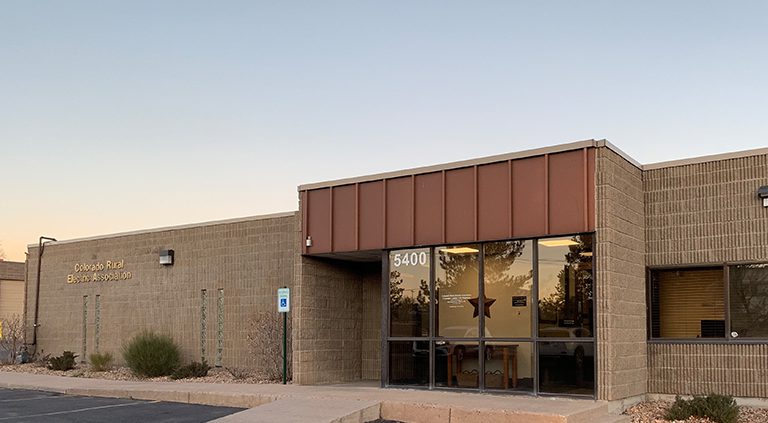 CREA Backs Your Local Co-op to Serve Members Better
By Derrill Holly and Amy Higgins
The true power of locally-owned electric cooperatives is the consumer-members living and working in the communities they serve, and when those co-ops are connected, their collective energy gives them statewide reach.
That's the role that the Colorado Rural Electric Association and other electric cooperative statewide associations play in supporting the goal of ensuring that co-op consumer-members always have safe, affordable, reliable energy.
"Our main objective is to complement what Colorado's electric co-ops do at the local level," said CREA Executive Director Kent Singer. "We aggregate all of their great work so we can talk about it collectively to all of the interested parties in the state who potentially have an impact on co-op consumers through laws, regulations or public policy."
At the direction of its affiliated electric cooperatives, CREA is regularly involved in education and training, legislative affairs, tax and regulatory matters and regional planning. It also provides a framework for coordination of many activities that provide more meaningful results when addressed through collective action.
Capitol Concerns
It's not unusual for Colorado's lawmakers to deal with hundreds of bills with thousands of amendments during a legislative session — many never advance beyond committees or face numerous revisions during hearing and review processes. Keeping track of even major changes is no small feat.
Besides members of state legislatures or general assemblies, there are also regulatory commissions, typically made up of appointees who may be more familiar with major investor-owned utilities than they are with member-owned electric cooperatives.
"It's all about making policy-makers aware of who we are, what we do and why we do it," said CREA Director of Government Relations Geoff Hier. "We need to do whatever we can to help them understand who we are and, most importantly, that we're all reaching for the same goal: providing safe, reliable, environmentally-friendly electric service at the lowest possible cost."
Leveraged Learning
When it comes to safety, operating efficiency and governance, skills and training can help an electric cooperative run more successfully and serve its members better. But when co-op employees are spread across several locations and committed to maintaining 24/7 operations, getting true value for training dollars can be challenging.
CREA offers training in multiple locations across the state, so participants don't always have to travel to Denver. In 2018, CREA's education department had 272 people in the eight director courses it offered. For employees, 28 classes were offered ranging from courses on leadership skills to work orders, line design and staking, as well as training for different work groups such as the mechanics and human resource managers. More than 500 employees participated in these classes.
Education opportunities abound for those who participate in CREA's annual meeting, the Energy Innovations Summit and the Fall Meeting. The Energy Innovations Summit is open to guests outside the co-op program and is an opportunity to mix with other industry leaders, adding additional value to the program.
CREA provides safety training for all 22 distribution cooperatives in Colorado. With three job training and safety instructors, each cooperative receives five weeks of training per year. The safety training is generated around Occupational Safety and Health Administration (OSHA) requirements.
The department also offers mutual aid assistance to members and to other states requesting assistance during times of need. The cooperatives participate in a National Rural Electric Cooperative Association and Federated Insurance program called the Rural Electric Safety Achievement Program, or RESAP, which is managed by CREA's safety and loss control department. Once every three years, each cooperative is extensively examined by volunteers from other cooperatives.
Engaging Future Co-op Members
Electric cooperative statewide associations also take a leadership role in many of the youth outreach programs supported by local electric cooperatives. CREA and other statewide associations coordinate the Electric Cooperative Youth Tour, sending about 1,900 high school students from 46 states to Washington, D.C., every June.
"As cooperatives, we understand that our student leaders of today are our community leaders of tomorrow," said CREA Director of Member Services and Education Liz Fiddes. "What better time to teach these students about the cooperative business model and co-op careers than through our youth programs?
"Colorado has taken students to Washington, D.C., for 25 years and to the Cooperative Youth Leadership Camp for 42 years," Fiddes added.
For many Youth Tour participants, the co-op sponsored trips are the farthest they have ever ventured from their home communities without their families. They also provide exposure to state and federal government operations, and opportunities to learn and practice skills that will serve them for a lifetime.
"We promote the life skills that today's generation value, like building relationships, developing leadership skills and enhancing their resumes," Fiddes said.
Participants develop strong relationships with their sponsoring electric co-op that often include speaking or volunteering at annual meetings and other co-op events. The results are meaningful community service hours and experiences that often inspire college application essays or can lead to technical or member services career opportunities after graduation.
These are just a few ways that statewide associations like CREA support electric cooperatives. Everything they do is aimed at one goal: bettering the communities they serve.
Derrill Holly writes on consumer and cooperative affairs for the National Rural Electric Cooperative Association.
Amy Higgins is a contract writer covering Colorado's electric co-ops.
https://crea.coop/wp-content/uploads/2019/02/Industry-4.jpg
512
768
CREA Admin
https://crea.coop/wp-content/uploads/2021/12/Horz_FullColorSolidBlue.png
CREA Admin
2019-02-01 00:33:58
2019-02-01 00:34:59
CREA Backs Your Local Co-op to Serve Members Better