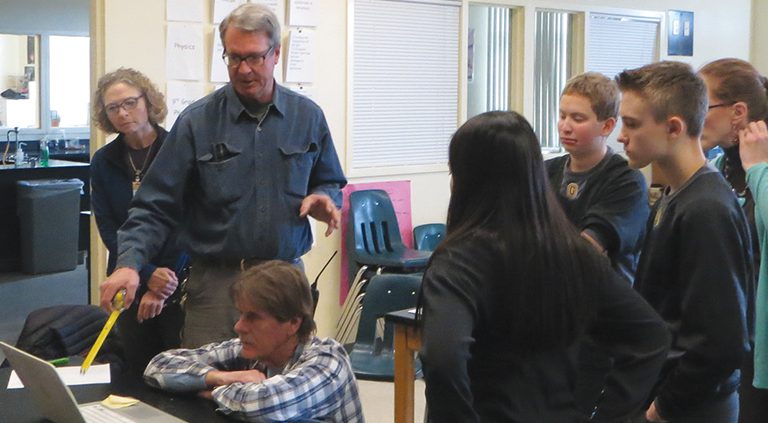 Energy Savings for Schools Program
By Katie Kershman
Delivering cost-effective energy services and advancing innovative energy solutions is the mission of the Colorado Energy Office. This year, in support of its mission, CEO piloted a new approach for the Energy Savings for Schools (ESS) program. Up to four school districts will work with CEO's program administrator, Brendle Group, to identify energy and water goals, educate staff and students on conservation and plan and implement projects that result in increased awareness and cost savings.
Through the program, districts receive:
• Free technical support, and energy and water conservation coaching
• Free customized Resource Management Plan that sets goals, identifies priorities and activities, helps gain district buy-in and creates a culture of conservation
• Free electricity monitoring equipment and coaching to track electricity use in real time on a web-based dashboard
• Free hands-on resources for engaging students, including printable educational materials and learning activities
• Free recognition opportunities and connections to peer districts
"We understand how limited resources are — especially staff time and money — for districts in Colorado, and we also know how important conservation is for the bottom line," explains program manager Susan Bartlett. "CEO's program aims to help each district understand its baseline, set conservation goals and make both operational and behavioral improvements that are tangible and teachable."
Operations and maintenance costs are the second highest operating costs for K-12 schools after instructional spending, according to the Financial Transparency for Colorado Schools website. It's estimated that more than $2 billion could be saved nationwide by improving energy efficiency in school buildings, according to the U.S. Environmental Protection Agency. To reduce these costs, the EES program provides districts with:
• A menu of easy-to-do efficiency projects and activities
• Improved learning and leadership opportunities for students
• Resource planning support and best practices for long-term energy, water and cost savings
• Help identifying and pursuing potential funding sources
• Tools to maintain momentum
• Improved environment for students, teachers and administrators
To date, two districts are testing the new pilot. In March and April, Gunnison Watershed School District took conservation to its classrooms to raise awareness about energy and water use. "The support for student engagement and classroom activities has been the most exciting part of the program so far. Our teachers have been very enthusiastic about engaging both their classrooms and beyond, with the goal to not just teach in their classrooms but to engage the entire district," explains Transportation and Facilities Manager Paul Morgan. "The engagement support ESS provides is helping us build more than just a one-year curriculum. Our aim is to continue engaging future students in conservation learning and activities for years to come."
Sheridan School District began student and staff engagement in April. As part of the program, both districts will complete a Resource Management Plan that identifies additional operational and behavioral activities they will undertake in the next school year and how they plan to share their progress with the broader school community.
There are still two spots remaining for school districts interested in participating in the pilot this school year. You can learn more about the pilot on the program website: ColoradoESS.org. If you know of a school that might benefit from the program, contact Bartlett at 970-207-0058 or ess@brendlegroup.com.
Writer Katie Kershman is with the Brendle Group, an engineering and planning firm.
https://crea.coop/wp-content/uploads/2019/05/Industry-1.jpg
512
768
CREA Admin
https://crea.coop/wp-content/uploads/2021/12/Horz_FullColorSolidBlue.png
CREA Admin
2019-05-01 00:42:19
2019-05-01 00:42:19
Energy Savings for Schools Program