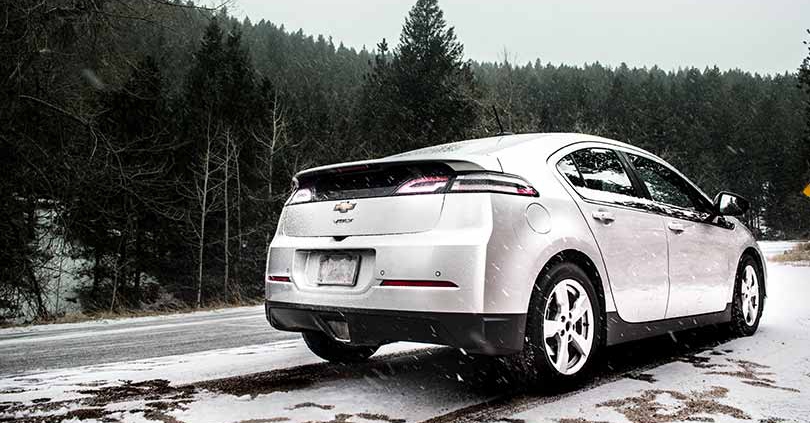 Driving EVs in Winter Weather
The woes (and whoas!) of driving electric in cold temperatures
By Amy Higgins
Weather conditions in Colorado are diverse and, depending on where you hang your hat at the end of the day, you could be dealing with intermittent ice and snow when getting around town or perhaps hazardous conditions are often part of your everyday life all winter.
Whether gas-powered, electric or a combination of the two, cold weather affects your vehicle's performance, according to fueleconomy.gov. This official U.S. government source for fuel economy information reports that the fuel economy for gas-powered vehicles can drop as much as 24% in cold temperatures; up to 34% for hybrids; and 39% for electric vehicles.
Gunnison County Electric Association, with offices in Gunnison and Crested Butte, is in an area of Colorado where temperatures can reach below negative 20 degrees. The electric co-op has a Chevy Bolt and a Tesla Model 3 in its fleet of EVs and tested the vehicles at subzero temperatures.
"We noticed that when you have subzero temperatures, the battery loses up to 37% efficiency compared to the warmer temperatures," says GCEA Member Relations Supervisor Alliy Sahagun.
These tests, Sahagun says, have helped educate GCEA consumer-members about what they can expect with an EV. For example, road trips could be arduous if EV owners are not mindful of this expected decrease in productivity, the weather conditions and their vehicle's current charge status.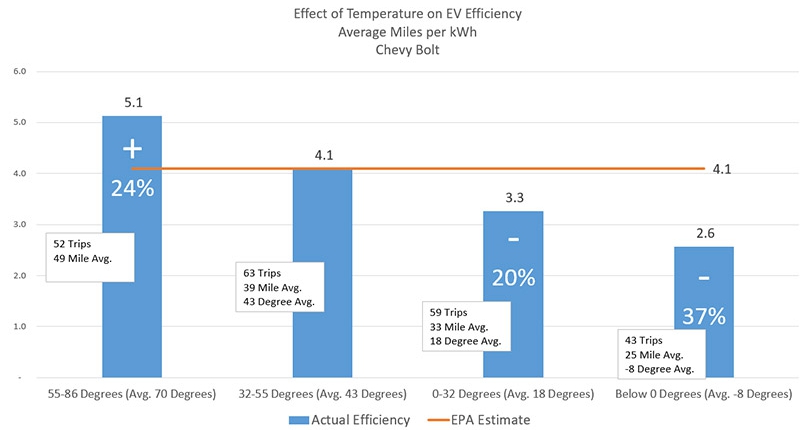 On the flip side, EVs perform well, if not very well on shorter trips. This is the third winter Chris Michalowski's family has owned its Chevy Bolt — his wife's preferred vehicle when driving around town during the week. A single charge provides more than 200 miles of range, so on short trips, she doesn't have to charge again until later that evening during their electric co-op's off-peak hours. Now outfitted with snow tires and ski racks, the Bolt is their go-to when heading to the ski resort. "It's small so it can sneak into tight parking spaces at the ski resort, and you don't have to wait for it to warm up," says the Granby-based Mountain Parks Electric power use advisor. "I have a pickup truck as well, but I'd much rather take our EV to the ski resort."
Sahagun says she frequently gets questions about how GCEA's Bolt and Tesla handle in the snow and on ice. She says they perform "really well." Because of the battery's weight, EVs have a low center of gravity which helps the vehicle hug the road, preventing it from sliding. However, this low center of gravity doesn't provide a lot of clearance, which can be precarious around higher snowdrifts and unplowed roads.
"If the roads are plowed, I've not had any problems with them — they do great," Sahagun says. A GCEA member shared with her an experience when his truck became stuck in the snow: "He hitched his pickup truck to his Tesla Model S and he pulled it out of the snow, so they're pretty strong, pretty powerful.
One clear advantage of an EV when compared to a gas-powered vehicle is its ability to provide heat almost instantaneously. "I tell people it's like a hair dryer. Boom. The warm air starts coming out," Michalowski explains. "For those short trips to the grocery store in the winter, by the time you get there and back, the car is finally starting to warm up [in a gas-powered vehicle]. It's not the case with electric vehicles because the heating system is electric. It's pretty much warm air right from the get-go."
Although there is a decrease in range during winter temperatures, EVs are highly efficient when navigating around town or driving to and from work. And the amount of "fuel" remaining in your EV isn't as important at the end of the day as with a gas-powered vehicle. "If you go home with 40 miles of range left or 100 miles of range, it's all the same," Michalowski explains. "It's kind of like your cellphone — you don't really care what the battery life is like as long as it works and you're able to plug it in and it charges again."
Analyze before you finalize
The catchphrase "range anxiety" — the fear of being stranded without a charge when needed — still has some potential EV buyers reeling, but this concern is swiftly dwindling. President Joseph Biden's American Jobs Plan proposes a national network of 500,000 charging stations by 2030, up from the Department of Energy's current count of around 50,000.
EVs come with a 120-volt, Level 1 charger, which can be plugged into any outlet, but they can take 16 hours or more to fully charge. Upgrade to a Level 2 charger, set it to charge when you go to bed (yes, you can program your charger), and wake up to a full charge the next day. And fast chargers — 34 Colorado locations and growing — can boost your battery 80% in 30 minutes.
"When I bought my Bolt, there wasn't a single fast charger in the county and here we are two years later and now there are four fast chargers in all four corners of the county," Michalowski says. "It seems all the time new public chargers are getting installed. It just gets better and better as far as what's available."
Educate yourself about EVs and take a test drive or keep an eye out for EV Ride and Drive events in your area. "From our own experience, just getting people behind the wheel is a huge game changer," Michalowski says about MPE's Ride and Drive events.
Consider your budget, your lifestyle and your daily commute to and from work, the grocery store or anywhere else you visit routinely. Not thrilled about the selection? The soon-to-be-released electric Ford F-150 as well as new all-wheel-drive options may sway you to make the switch. In the end, whether or not to drive an EV is a matter of preference.
---
Amy Higgins is a freelance writer for Colorado Country Life. For a decade she has been reporting on energy-related issues for Colorado's electric cooperatives.
https://crea.coop/wp-content/uploads/2022/01/Industry-1-7.jpg
608
810
CREA Admin
https://crea.coop/wp-content/uploads/2021/12/Horz_FullColorSolidBlue.png
CREA Admin
2022-01-31 23:38:17
2022-01-31 23:41:52
Driving EVs in Winter Weather