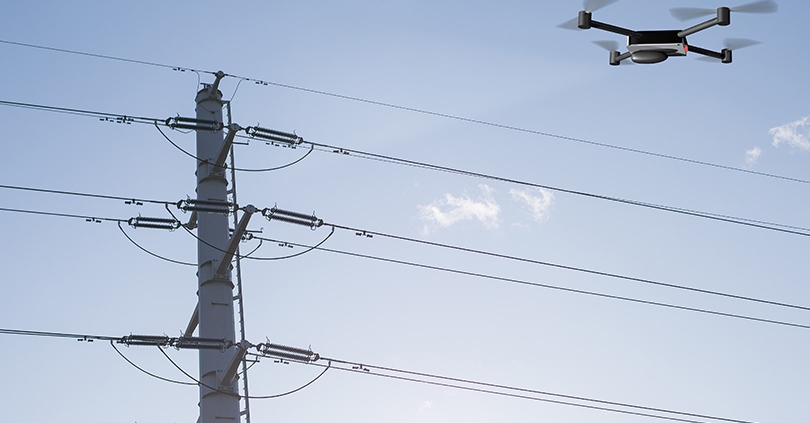 Drones Now Help Co-op Serve Consumer-Members
Buena Vista-based Colorado electric cooperative, SDCEA, was recently featured in a National Rural Electric Cooperative Association podcast that discussed the use of drones in the electric utility industry.
NRECA research and survey data shows that over 300 electric co-ops in the U.S. use drones on their system. And with its rugged territory and sometimes difficult-to-access equipment locations, SDCEA is a prime example of how this rapidly changing UAS technology can assist in ways previously never thought possible.
Bill Hovanec, GIS lead at SDCEA, stated in the interview that the drone program has been helping the co-op for 18 months. He said it's a cost-effective way to get a lot of data that would otherwise be unavailable. Co-ops are typically smaller organizations with smaller budgets, but over the years, drone costs have gone down in price, and insurance, regulations and training expenses are also decreasing, making a robust drone program more accessible.
"Most rural co-ops can afford a couple drones to test and they bring back positive results," Bill said. At SDCEA, the drone data collected comes directly back to GIS; operations and line crews can pull up the pictures of what they see and get what they need before they even go out to make repairs or work on maintenance.
Bill appreciates the functionality with drones and uses in GIS every day. The more Bill learns about UAS technology and capabilities, the more he sees how major weather events and natural disasters can benefit from drone data. Events such as wildfires and snowstorms the service area is prone to may limit access to equipment, but drones give an "eyeball on it." An important part of SDCEA's overall maintenance plan to improve reliability and safety is wildfire mitigation. Bill stated in the interview that drones help with data collection for trouble spots on the system.
Mission and flight planning, as well as analyzing and processing the data is the most time consuming for any electric cooperative drone program. The actual flight may take an hour, but flight planning and data processing is more important and can take about twice as much time.
Bill hasn't had too many bad experiences when he or his pilot crew is flying the co-op's drone. Some consumer-members get frustrated and question privacy, but he said most people are more interested than upset. SDCEA knocks on doors prior to a flight to let consumer-members in the flight path know what the co-op is doing beforehand. And just like line crews, the drone team maintains safety practices and gets the aircraft on the ground before they answer any questions.
SDCEA's program currently has three pilots and one drone and the co-op is hoping to expand its drone inspection program.
https://crea.coop/wp-content/uploads/2022/04/SDCEA-Drone.jpg
608
810
CREA Admin
https://crea.coop/wp-content/uploads/2021/12/Horz_FullColorSolidBlue.png
CREA Admin
2022-04-21 15:56:23
2022-04-21 15:56:23
Drones Now Help Co-op Serve Consumer-Members