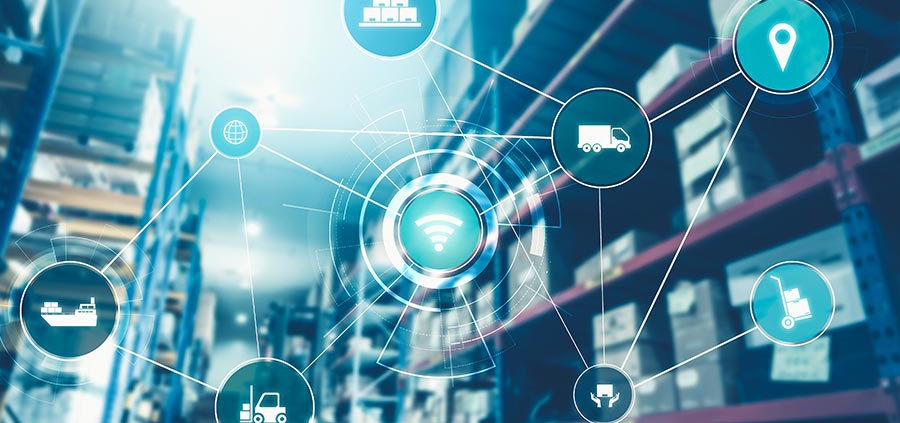 Electric Supply Co-ops Provide Supply Chain Solutions
By Derrill Holly and Kylee Coleman
Keeping essential parts flowing is getting more challenging and expensive for Colorado's distribution cooperatives pursuing their seasonal workplans or rebuilding their systems after major outages. But logistics and supply co-ops in Colorado and across the United States are finding creative solutions to help control costs and meet demand, even as they warn that stability in the supply chain could be many months away.
"The supply chain supporting the electric utility industry has been put to the test over the past 24 months with an array of events," Brighton-based Western United Electric Supply CEO Greg Mordini said. WUE, owned by electric cooperatives, serves co-ops in the states of Colorado, Arizona, Idaho, Kansas, Montana, Nebraska, Nevada, New Mexico, Utah and Wyoming.
WUE is one of nine members of the Electric Utility Distribution Association. EUDA members are noting shortages of key items such as transformers, conductors, sectionalized three-phase cabinets used on distribution systems and meter sockets required to install new service.
Fort Morgan-based electric cooperative Morgan County Rural Electric Association has been feeling the increasing impacts of supply chain issues.
"Two of the most challenging products to get are currently meter sockets and transformers, many of which are over a year out on delivery," MCREA Manager of Member Services Rob Baranowski said. "Also, some of the materials used to connect lines and equipment, and also secure lines to poles have become completely unavailable."
The current transformer shortage is perpetuated by inadequate global manufacturing capacity and stalled delivery of raw materials. Mordini noted that steel used in transformer cores has limited annual production. Overhead and underground conductor producers initially had product available but were unable to ship due to shortages in wood and the reels they use to transport the supplies. "Furthermore, the February 2021 freeze and power grid failure in Texas paralyzed the plastics market and triggered a global shortage," Mordini said.
However, proactive measures by WUE have helped provide its member cooperatives with good equipment and supply levels during these challenging times. Beginning in early 2020, WUE made a conscious effort to increase inventory and, even with the supply chain disruptions, has grown inventory by 55% as of this past February.
Distribution co-ops planned ahead, too. MCREA's pole yard is currently fully stocked. "Just as WUE has increased inventory over the last year and a half, MCREA has been ordering ahead and increasing inventory ever since shortages were first noticed," Baranowski reported. "This keeps the co-op's material inventory up and the co-op remains ready to meet any rebuilding demands."
Across the country, other EUDA members responded similarly to the way WUE did to supply challenges by broadening their vendor bases, turning to more manufacturers and encouraging others to expand their product lines. "We are getting letters from manufacturers and their representatives about lead time extensions, price increases, shipping delays and production curtailments," said Bret Curry, manager of sales for Little Rock-based Arkansas Electric Cooperatives Inc.
AECI is another member of EUDA noting spot shortages of key items such as transformers, fiberglass cross arms and three-phase cabinets and meter sockets.
"You wouldn't think that something so simple as a piece of bent metal with a socket to hold a meter would be that difficult [to locate], but there is definitely a shortage of those," Curry said. "Challenges to this industry right now certainly give opportunities for those that are creative to get in the game."
WUE chose to curtail sales to new customers and reserve material for its historical customer base. "Many of our manufacturing partners have followed suit, working only with established clients," Mordini said. "This has led to a normalization in our market, not due to production increases or decreased demand, but rather manufacturers and distributors being focused on their core business partners."
Current supply chain problems across the electric industry as a whole are the worst many industry veterans have seen in their careers. They compare them to temporary disruptions from previous major weather events that produced widespread damage across multiple regions.
Despite these challenges, creative solutions and product substitutions can help electric distribution co-ops maintain, build and expand their systems, Baranowski said, "For projects where meter socket orders would create delays, crews now often install underground wire to a ground-mounted meter pedestal." He explained that's not the only thing the co-op has recently modified. "We have also received requests for design changes allowing co-op consumer-members to buy their own transformer."
While EUDA members don't think supply and delivery challenges will last forever, most agree that is for the foreseeable future, continued planning may help co-op limit disruptions to their members. "MCREA consumer-members have remained understanding during these supply-chain challenges," Baranowski said. "Our engineering department communicates directly with members requesting new services about expected project time frames, current delays and potential material substitutions."
"Western United's strong partnership with manufacturers throughout the industry and our commitment to placing the highest priority on our membership ensures we are in the best position to support our cooperative members throughout this challenging period," Mordini concluded.
---
Derrill Holly writes on consumer and cooperative affairs for the National Rural Electric Cooperatives Association. Kylee Coleman is the Editorial/Administrative Assistant for Colorado Country Life magazine and writes about Colorado electric co-op news for CREA.
https://crea.coop/wp-content/uploads/2022/06/EnergyConnections_3-3.jpg
600
900
CREA Admin
https://crea.coop/wp-content/uploads/2021/12/Horz_FullColorSolidBlue.png
CREA Admin
2022-06-30 12:19:12
2022-06-30 12:19:12
Electric Supply Co-ops Provide Supply Chain Solutions