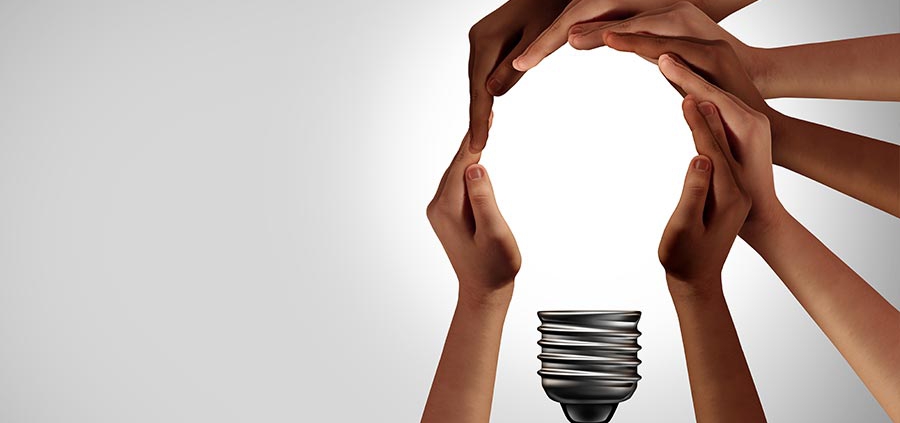 Cooperation Among Cooperatives
Working together ensures phones are always answered
By Sarah Smith
Your local electric cooperative may be a relatively small utility, but its services are those you would expect from a much larger company. That is only possible because your co-op works with other small cooperatives to provide much more than it could by itself. We call it cooperation among cooperatives.
National Cooperative Month
October, which is National Cooperative Month, is a great time to look at how standing together and pooling resources can help local co-ops do their job better, more efficiently and more cost-effectively. It's a time to celebrate cooperation among cooperatives (one of all co-ops' seven guiding principles).
Handling after-hours outage calls and storm calls is one area where Colorado's electric co-ops work together to make sure their consumer-members always have someone answering the phone. Many of the co-ops work with cooperative organizations such as Basin Electric Power Cooperative's Security and Response Services (SRS) and the Cooperative Response Center (CRC) to meet this need.
SRS is offered by Basin Electric, a generation and transmission cooperative, and provides 24/7 dispatchers who add that local touch, answering calls with the specific cooperative's name. Consumers are pleasantly surprised to hear a friendly voice when they call — even late at night or on weekends.
"It is extremely important for customers to experience the same satisfaction and care while using the after-hours line that they receive during the day," said Jolene Johnson, SRS dispatch manager for Basin Electric. "We currently provide services for 86 co-ops in 12 different states. However, our main goal and primary focus is the safety of our lineman. Our customer service is a very high second, but SRS is here to ensure that the lineman is safe, from the time an outage is reported until the lineman is back home with their family."
Co-ops Utilizing SRS Service
Currently, SRS provides service to seven of CREA's electric cooperatives: San Isabel Electric in Pueblo West, Southeast Colorado Power in La Junta, SDCEA in Buena Vista, K.C. Electric in Hugo, Y-W Electric in Akron, White River Electric in Meeker, and Mountain Parks Electric in Granby.
This year, SIEA experienced big storms, causing after-hours outages. SRS eased the impact on SIEA's member services, linemen and dispatch teams during those critical times for the co-op and its consumer-members.
"SRS is really great to work with in every capacity," said Candace Alfonso, a dispatcher at SIEA. "They are always willing to meet my needs and consistently value all feedback. Over the last six to12 months, we have experienced some major storms that caused outages overnight or landed on the weekend when I was not available, and SRS rarely needed my assistance. I appreciate all their hard work and dedication. They don't have all the resources that I have, but they do the best they can with what they do have.
"All their dispatchers are very friendly and provide great customer service to SIEA's members. They are supposed to represent us as much as possible, and I think they do an excellent job. Not only do they do exemplary work with outages, but they also answer all outage calls and take a ton of hazard calls. We are a great team and I love working with them," Alfonso added.
Co-ops Utilizing CRC Service
CRC is another service-based organization that is an important tool for a handful of CREA's electric cooperatives. Among the co-ops that use CRC services are Empire Electric in Cortez, Morgan County Rural Electric in Fort Morgan, Poudre Valley Rural Electric in Fort Collins, San Luis Valley Rural Electric in Monte Vista, and Yampa Valley Electric in Steamboat Springs.
CRC offers customer contact, a dispatch center and a central station alarm-monitoring service for electric utilities, which ensures their members' need for reliable service is met, any time of day or night.
MCREA uses the after-hours call service center offered by CRC and appreciates that a co-op of its size has its phone lines answered 24/7. Occasionally, MCREA also leverages CRC's services during normal business hours if a larger outage occurs. This frees the phone lines for employees who would otherwise be overwhelmed by the onslaught of call volume because of the outages.
"CRC is very quick to get in touch with our operations department when an issue on our system is reported by a community member. They text our on-call employees with after-hours outage information very quickly, allowing them to mobilize without delay. In addition, CRC conducts text message safety checks on MCREA's employees when they are in the field performing after-hours restoration work," said Rob Baranowski, MCREA's manager of member services
"And CRC's help doesn't stop at outage calls. For example, we asked them to provide a dial-back number for this year's annual meeting, which was held by phone. That way, any members who noticed a missed call from MCREA during our initial evening callout were given the live callback number by a CRC operator when they returned MCREA's missed call," Baranowski said.
Ken Tarr of EEA in Cortez agrees. "CRC is a blessing to our system operators during outage situations — especially large-scale ones — when they handle all the incoming calls. Our system operators are able to focus on getting power restored as well as the safety of our linemen in the field," he said.
Cooperation Among Cooperatives in Action
Grand Valley Power in Grand Junction and Delta-Montrose Electric in Montrose also demonstrate cooperation among cooperatives on a smaller, but just as significant, scale. GVP and DMEA are close in proximity, with just about 60 miles between the two cooperatives; both serve the far western side of the state. GVP utilizes DMEA's after-hours line, and occasionally, if all GVP's employees are out at a training, they can also forward calls to DMEA's call service.
Whether it's at 10 p.m. during an unexpected power outage or on a Sunday afternoon when a blizzard hits, electric cooperatives rest easy knowing their members are still getting the immediate help they need when they call, whether it's from SRS, CRC or even a neighboring co-op.
Cooperation among cooperatives is an integral component to running a successful organization, where its customers feel valued, heard and, most importantly, safe.
---
Sarah Smith, a former CREA employee, writes freelance articles on Colorado's electric industry.
https://crea.coop/wp-content/uploads/2022/09/EnergyConnections_1-9.jpg
600
900
CREA Admin
https://crea.coop/wp-content/uploads/2021/12/Horz_FullColorSolidBlue.png
CREA Admin
2022-09-30 21:06:43
2022-09-30 21:06:43
Cooperation Among Cooperatives