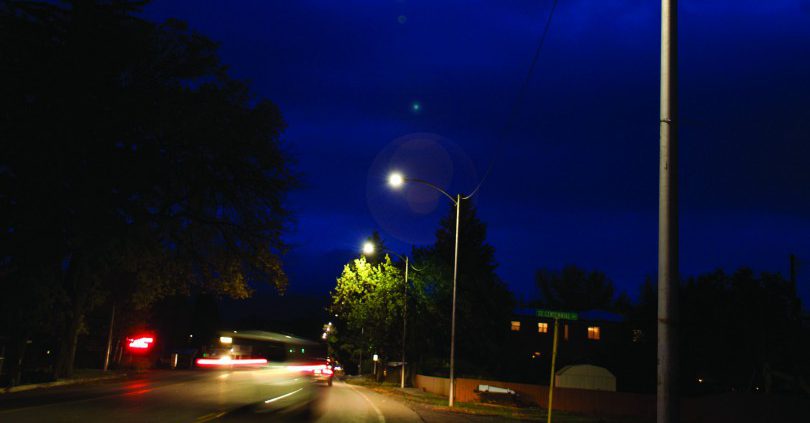 Towns Swap Traditional Lights for LED Streetlights
Delta-Montrose Electric Association's LED streetlight initiative is making a tremendous energy-savings and aesthetic impact in the Delta, Montrose and surrounding areas, and the reception has been positive.
In the fall of 2015, the town of Cedaredge made the switch to LED streetlights, cutting its monthly street lighting costs in half. In addition to using less energy than traditional lights, LEDs last much longer. On average, LED lamps last 10 to 15 years as compared to 4 to 6 years for older technologies. By swapping out the town's 92 streetlights, Cedaredge will see significant savings on its energy bill and also cut DMEA's maintenance and material costs.
"We're very happy with the LED lights. They are a lot brighter, and many people have commented that they just feel safer. The new LEDs provide a better quality of light. And of course, the reduced electric bill for the town of Cedaredge is a huge plus," said Kathleen Sickles, Cedaredge town administrator.
"Credit must be given to our town governments, like Cedaredge, for recognizing the value of LEDs, both from an efficiency standpoint and a quality standpoint. I'm proud to see our small towns leading the way and making changes that haven't even happened in some of the largest cities in the U.S.," said Phil Zimmer, DMEA energy services supervisor.
The towns of Crawford and Cedaredge already made the transition to all LED street lighting. Montrose made the switch for its highest rated lamps, trading in 400-watt mercury vapors for 38-74 watt LEDs. Olathe and Hotchkiss are next. Both recently approved plans to move forward with LED street lighting.
"Our board of trustees is constantly working to find ways to use taxpayer money in the most efficient way possible. DMEA's proposal to transition our streetlights to LEDs provided an opportunity to reduce our energy costs and improve the quality of lighting throughout town. With a payback period of just 3.5 years and the potential for future savings, it just made sense," said Patty Gabriel, Olathe town administrator.
DMEA proposed plans for transitioning to the energy-saving technology to all towns and cities within the co-op's service territory.
https://crea.coop/wp-content/uploads/2016/07/DMEA-810x527.jpg
527
810
Hostworks Administrator
https://crea.coop/wp-content/uploads/2021/12/Horz_FullColorSolidBlue.png
Hostworks Administrator
2016-07-04 14:01:17
2016-07-04 14:01:17
Towns Swap Traditional Lights for LED Streetlights