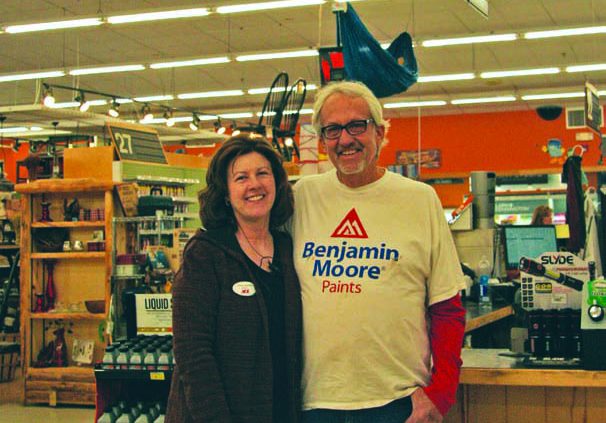 An "Ace" in Energy Efficiency
La Plata Electric Association continues to aid its member-owners with their energy efficiency endeavors through guidance and its rebate program.
Terry Smith, owner of Terry's Ace Hardware in Pagosa Springs, turned to LPEA to help with the high electric bill for the expansive store. Not only did CFO Dennis Svanes work with Smith to manage his bill, Svanes planted the seed that Smith should look into energy-efficient LED lighting to reduce costs. Coincidentally, Ace Hardware corporate also launched an efficiency initiative, encouraging stores to switch to LEDs.
"We went to an Ace convention and the guys from Feit had a program that analyzed the size of our store, how many bulbs we had," Smith said of the lightbulb manufacturer. "They plugged it in and showed us how much it would cost us, but also how much we would save."
Unfortunately, store manager Susan Garman discovered that updating to LEDs in a large facility with multiple applications is not that simple, and she was flooded with a variety of sales sources. That's when LPEA's project specialist Ray Pierotti stepped in.
"A lot of people don't realize the benefits of a cooperative," Pierotti said. "We're here to help people – not to make a profit."
Pierotti helped Smith change out more than 1,600 lightbulbs. Although the total job cost was nearly $30,000, Smith received a $5,716 rebate from LPEA, will realize more than a $9,000 per year reduction on his stores electric bill and will see a return on investment in less than three years.
Another benefit is that lighting throughout the store has improved dramatically, particularly in the furniture department, according to Garman. "With the other lighting, it was dim and the colors got distorted," she said. "Now this is a true color, which we didn't get with the old fluorescents."
Terry's Ace Hardware is now a flagship for LEDs, offering a wide variety for its Pagosa neighbors.
"We did a reset on our lighting department," Smith said. "All of us here are committed to reducing our carbon footprint. We do have customers coming in who are madder than wet hens that they can't get their 60-watt incandescent bulbs anymore, but we are cheerleaders for the future and are here to educate. And LPEA has been a great partner."
https://crea.coop/wp-content/uploads/2016/07/laplata2.jpg
446
606
Hostworks Administrator
https://crea.coop/wp-content/uploads/2021/12/Horz_FullColorSolidBlue.png
Hostworks Administrator
2016-07-04 14:00:10
2016-07-04 14:00:10
An "Ace" in Energy Efficiency