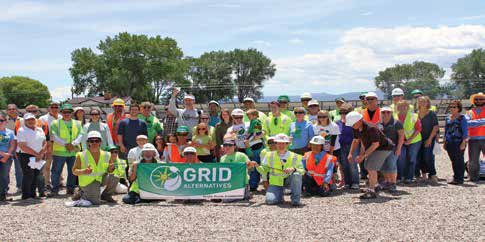 Households in Colorado with income less than 80 percent of the area median, also known as income-qualified households, may face utility bills up to 15 percent of their net household income, depending on the season, reports show. In comparison, non income-qualified households typically pay less than 4 percent for their utility bills.
To help alleviate a portion of this utility cost burden, Glenwood Springs-based Holy Cross Energy is partnering with GRID Alternatives Colorado and the Colorado Energy Office to implement an income-qualified community solar array project.
Currently underway at the Cooley-Mesa campus in the town of Gypsum is the construction of a 145 kilowatt solar photovoltaic array. The estimated cost of the array is $450,000. However, this cost will be reduced by a $205,000 grant awarded to the project. HCE will own, operate and maintain this array. When completed, the array will produce approximately 218,000 kWh/year of clean, environmentally friendly electric energy – enough to meet the needs of 18 to 20 local homes this year.
The project is designed to help establish monthly electric bill credits for eligible income-qualified households that receive service from the electric cooperative for a two-year participation period. On an annual basis, this program is expected to provide a 50 percent reduction in the participant's electricity bill, resulting in tangible utility savings for income-qualified households.
All eligible participants receive, with no up-front cost, a pro rata share of the generation capacity of the solar array. This percentage is applied to the actual monthly production of the array. Their calculated kilowatt-hour production is then multiplied by a preset energy rate to determine the bill credit. Though bill credit amounts may exceed the actual amount due, a minimum electric bill will be paid monthly by each participant. Any excess bill credit amount will carry forward to the next month.
A unique feature of this project, intended to manage overall costs, is the community "barn-raising" approach for installing the array. There will be several volunteer day opportunities for qualified program participants, elected officials, HCE employees and board of directors, and others to roll up their sleeves and furnish some sweat equity for the benefit of the project.
GRID will be responsible for the administration, coordination and selection of the first group of income-qualified households to participate in the project.
https://crea.coop/wp-content/uploads/2016/08/HCsummer-2016-6.jpg
242
485
CREA Admin
https://crea.coop/wp-content/uploads/2021/12/Horz_FullColorSolidBlue.png
CREA Admin
2016-08-03 15:09:46
2016-09-26 16:25:17
New Community Solar Project Helps Income-Qualified Households